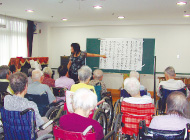 Aiming to allow users to lead their own fruitful lives to live, we provide caring service suitable for the person based on the individual care service plan including personal care, recreation and hobby activities.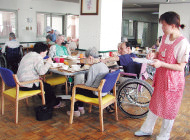 Always taking care of hygiene control (safety) and nutrition control, we offer menus considering sense of the season and preference while serving them at the proper temperature.
We strive to provide delightful meals in a homely atmosphere.

We make efforts to properly grasp physical conditions of users day by day to prevent illness and our doctors and nurses take all possible measures to ensure early detection of illness and effective treatment.
Besides, based on the state of illness, support of the medical system of Hirakata General Hospital for Developmental Disorders on the same campus is available.  Also, we expect to receive the cooperation of public and official hospitals in Hirakata city as needed.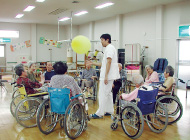 We provide rehabilitation by professional staff in order to recover and maintain the functions of users as well as developing their physical strength.